What is "Figosa"?
Figosa is a strap for photo cameras, especially for analog or mirrorless cameras.

"Figosa" means in Italian "something cool" and this is what we want to pursuit: to make "cool" our photo cameras, giving them a vintage style!
All the figosa straps are in genuine leather, handcrafted in Italy.
Our project is quite young, but we have already received many positive and enthusiastic feedbacks from our users from all over the world!

Figosa's creators: Laura & Andrea
We both are photographers for passion. In fact, we prefer to define us two photography lovers: we adore photography in all of its aspects and expressions. We use digital cameras but we never left the wonderful world of film.
We are old photo cameras collectors too and we are used to go to flea markets, looking for more cameras to enlarge our collection. We noticed that most of the cameras that we found had a very consumed strap or in many cases they had none.
Since we are not only collectors, but first of all cameras users, the straps play a very important role.
So we decided to make these leather vintage-style straps by ourselves, and then to sell them all over the world!
And that's why Figosa project was born in April 2013!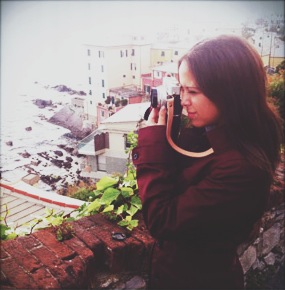 I'm Laura
Favorite photo cameras
Canonet, Olympus Trip and Lubitel 166 universal, for film cameras.
Canon EOS 60D and Olympus OM-D for digital cameras.
Favorite photographers
Elliott Erwitt, Mario De Biasi, Henry Cartier Bresson.

I'm Andrea
Favorite photo cameras
Olympus OM-10, Kodak six-20 Junior and Polaroid SX 70, for film cameras.
Canon EOS 7D for digital cameras.
Favorite photographers
David LaChapelle, Gianni Berengo Gardin, Mimmo Jodice.